What are our products made of?
Smooth Milky & Cocoa creams, crunchy, crispy biscuit bites!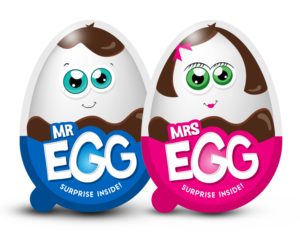 What Ingredients Do We Use?
Milk
Yes! Whether it is pasteurised or powdered, whole milk or skimmed, we ensure the process means you get that creamy, yummy taste that we enjoy.
Wheat
 We find it a delight to be using wheat in Mr and Mrs egg to make it a scrumptious treat!
Cocoa
We love making milky cream chocolate and we simply couldn't do it without cocoa!
Vegetable Oil
We do use oils and fats all extracted from vegetables.
Cocoa Butter
All our products are suitable for vegetarians, we use cocoa butter in Mr and Mrs Egg.
Sugar
Sugar is added to our products

Our Toys
We carefully source and select high quality ingredients from which our Mr & Mrs Egg are made, making sure you get a scrumptious treat every single time.